We follow every applicable federal, state and local regulation to develop protocols and acquire protective equipment that will ensure everyone's safety. We have always been committed to the highest standards of infection control and in line with that, we have taken the following additional measures: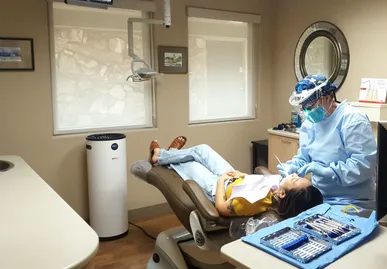 - Equipping each patient room in our office with an individual medical grade air sterilizing and purifying system. Each unit has a medical grade HEPA-Rx Filter and UV Sterilization. This is considered one of the most advanced stand-alone in the market
- Screening patients before they come to their appointment: Patients who in the past 2-3 weeks have had fever, shortness of breath, cough, gastrointestinal upset, headache, fatigue, or loss of taste or smell; or have been in contact with anyone with COVID-19 are being asked to postpone dental visits for at least 3 weeks
- Limiting aerosols, and whenever aerosols are generated, we are using dental dam isolation, Dry Shield, and Purevac high volume suction
- Strictly following CDC's up-to-date infection control recommendations, as we have always done, and making necessary changes as new updates become available
- Maintaining adequate physical distancing among patients throughout our office
We are accepting appointments to help our patients maintain their oral health. You can contact us and let us know when you would like to schedule an appointment or if you have any other concerns.
We look forward to seeing you soon.
Stay safe and healthy!
Samer S. Alassaad, DDS and Team